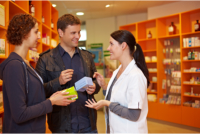 Prudential Pharmacy will be happy to help you manage your health with prescription medication, over-the-counter drugs and specialized healthcare equipment.
We serve both private patients and health care facilities.
These are the services we provide:
We offer free Blood Pressure check
We accept most insurance plan
we offer $3.99 prescription
We also offer competitive pricing
Free delivery within 10 miles radius including Duncanville, Cedar Hill, Dallas, Lancaster, De Soto, Red Oak and surrounding areas
Fast and Friendly services. Most prescription field within 10 minutes
24 hour medication counseling
We also offer veterans discounts
Seniors Discounts
Stop in and visit us. We sure you would like the Prudential experience.